Adult / Teen Workshop Descriptions
Extraordinary Workshops, Extraordinary Teachers
Workshops at Maud Morgan Arts offer an opportunity for intensive engagement in focused topics, taught by specialists in their fields.The groups are small, and attention is individual. Instructors respond to each participant wherever they may be in their artmaking journey.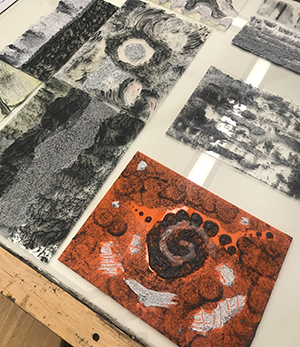 Pressworks
Adult / Teen
5 Tuesdays, 6 – 8 pm
October 15 – November 12, 2019
Tailored to you!
This course will introduce a number of low-tech and fun printmaking methods. Through in-class demonstrations and personalized instruction, students will have the opportunity to experiment with these different printmaking methods while exploring their own imagery.  Students are strongly encouraged experimenting with color, layering, and combining multiple techniques.