Preschool Program Descriptions
Discovering through Play
Starting toddler and preschool children early with age-appropriate programming gives them the thrill of discovery through play, and develops their gross and fine motor skills.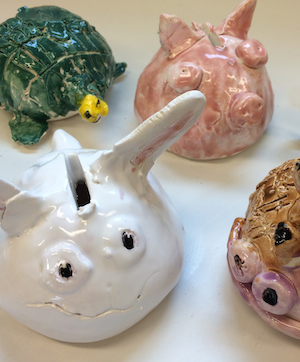 All for Clay / Clay for All: Adult & Child
10 Saturdays, 10 am – 12 pm
April 6 – June 15, 2019
Excludes May 25, 2019

All ages and skill levels can work side by side.

No matter how young or old you can be successful in clay. Employing a variety of hand building and wheel throwing techniques we will have fun making functional and sculptural pieces. We will glaze and fire our work to take home and enjoy! This is a chance for all ages to work together and inspire each other.
Note: Registration includes child age 8 and under, up through grade 2, and accompanying adult. Children are not permitted in the studio outside of class time.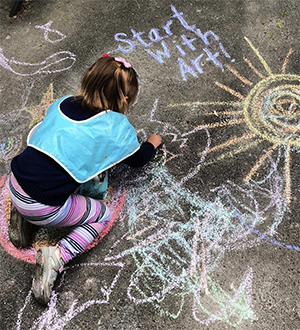 Start with Art
Preschool & Toddler
7  Thursdays, 10:30  – 12:00 pm
May 2 – June 13, 2019

Play, Discover, Create
Each week children and their caregivers will find a variety of age appropriate materials and techniques to explore. Children can move at their own pace between stations of process art activities.
We will dive into using fine and gross motor skills, as well as sensory experiences.Projects will include a mix of messy and/or large projects with those more easily repeated at home. As always, the focus will be on having fun.
Note: Registration includes one child age 1 1/2 to 4 1/2 yrs old and accompanying adult.