Chandler Gallery Current Exhibition
February 27, 2017
Reception: Thursday, February 23, 6 – 8 pm
Artist Talk: Thursday, March 9, 6 – 7:30 pm
Artist Gerry Bergstein uses his studio floor as "an archaeological site in which to explore my own mind." For over a decade, he has added paint and collage to an ever-evolving studio installation that serves as a figurative and literal starting point for his artwork. The pieces in Bergstein's upcoming show at the Chandler Gallery combine photographs of his studio collage with additional visual elements, intentionally blurring the lines between photography, painting and collage.
Learn more >
One-on-One Portfolio Sessions
March 04, 2017
Launch into a deep one-on-one discussion of your artwork journey. Each artist's work will be discussed in terms of the goals of each participant.  No particular esthetic or intellectual stance or ideology is privileged. The focus is on what is possible rather than what is not possible. Every vision is permitted as opposed to what is forbidden.
Learn more >
Welcome to Our New Website
Thanks to the generosity of Fay Chandler, our new website is up and running!
You can now easily search for a class, workshop or event; view our comprehensive calendar; learn more about your favorite instructor; view and purchase prints and one-of-a-kind art by the our late namesake Maud Morgan; easily donate to the arts center; and more. We're excited to present our new home on the web, designed by Gill Fishman Associates. Bookmark maudmorganarts.org in your favorite browser, and don't forget to let us know what you think!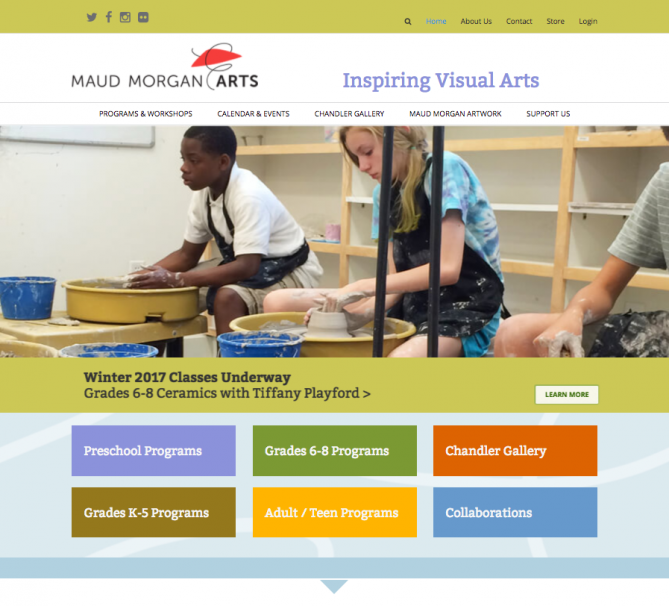 February Vacation Week, Grades 3-5, Grades 6-9
Learn a new skill this new year! Spend your vacation week in one of our 4-day workshops for grades 3-5, ceramics and fiber arts, or for grades 6-8, architectural design.